Description
SPLASH™ ROLL UP PANT
FEATURES
The KÜHL SPLASH™ ROLL-UP PANT features ÜBERKÜHL STRETCH™ fabric. This performance cotton blend dries faster than cotton and stretches for great comfort and freedom of movement.
Featuring a RELAXED FIT and 18.5″ bottom leg opening, the SPLASH ROLL-UP is available in a 30″, 32″ and 34″ inseam. When you don't need a full-length pant, the legs roll up with a secure snap. KühlKURVE™ fit and stretch fabric make these pants extremely comfortable.
Snap closure back and thigh pockets provide secure storage. Easy care, wash and wear make the SPLASH ROLL-UP perfect for summer, sand, and sun.
ADVANCED FABRICS
Fabric: main body: UBERKÜHL STRETCH 68% Cotton 29% Nylon, 3% Spandex | 5.2 oz/sq. yd; 176 GSM
UPF 50
Performance Cotton blend with stretch
Easy care, wash and wear
Imported

DIFFERENT BY DESIGN

The KÜHL FreeRyde™ Waistband follows the natural contours of your hips for a form fit.
FIT: KühlKURVE™ RELAXED FIT
Snap closure back and thigh pockets

DIFFERENT BY CONSTRUCTION

Twill tape detail
Relaxed leg
Product Video
About Kuhl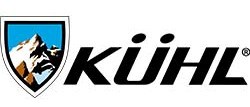 Adventure Gear Albury is proud to be able to bring you Kuhl – a brand born in the mountains. At KÜHL®, the passion remains to get outdoors and have fun. KÜHL® is what it means to be comfortable and relaxed in the challenging environment of life and sport. KÜHL® means creating the best environment for you and knowing the importance of following your own beliefs and desires. For KÜHL®, this dedication to original thinking translates into excellence in design and exceptional construction.