Description
Product Description
High performance athletes need high performance hydration. The Force 3L is ultra-durable and designed for action. The 36" flexible HydraFusion drink tube insulates in hot weather and protects in tough conditions. The high-flow bite valve not only has a dust cover, but it self-seals and features a twist on/off bar to prevent leaks. Ready when you are.
Specifications
CAPACITY: 3 L / 100 fl oz
DIMENSIONS: 445 mm / 17.4 in x 165 mm / 6.4 in
WEIGHT: 189 g / 6.6 oz
Features
INSULATED TUBE: HydraFusion Drink Tube with Dust Cover insulates in hot weather and protects in tough conditions
HIGH FLOW: New for 2019, engineered with updated high performance features and an enhanced design for 20% more flow
EASY TO CLEAN: Fully reversible for easy cleaning and drying, easily turns inside out
HEAVY DUTY: Heavy weight TPU, welded seams and an innovative design make for an ultra-rugged, abrasion resistant, field-ready reservoir system
Simple to use, the patented slider top opens wide for quick filling and closes tight for a leakproof seal
Dual FlexGrips make the reservoir convenient to carry and access in your pack, providing a secure grip while filling and pouring
External capacity gauge allows you to track your hydration intake or measure out the contents
Flexible 36″ HydraFusion drink tube insulates in hot weather and offers protection in tough conditions, dust cover protects silicone bite valve from collecting dirt
High-flow Blaster bite valve self seals after each sip and features a smooth twist on/off bar to prevent leaks when not in use
Plug-N-Play connect system lets you easily disconnect the drink tube (an auto shutoff valve prevents leaking) and remove the reservoir from your pack for convenient refilling
Removable bite valve allows you to attach most water filters directly to the tube for inline filtering in the backcountry
Made of ultra-durable, abrasion resistant TPU & RF welded seams for superior durability and elasticity
Wide working temperature range (can be frozen – max temp 60° C / 140° F)
Safe and reliable, 100% BPA & PVC free
ABOUT HYDRAPAK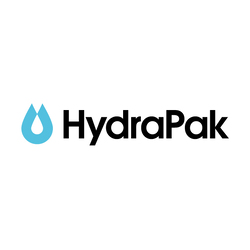 The Hydrapak story started with the belief that there is a better way to hydrate. From there, the Reversible Reservoir was born and we've been relentlessly creating better hydration solutions for performance-driven people and brands since. Whether it's a simple refinement or inventing a new category, it's this convergence of design and innovation that makes us different. For nearly two decades, we've been pushing the boundaries of hydration to create rugged, safe, and more reliable products designed to go with you anywhere.